Dwight E. Tarwater was confirmed by the General Assembly in 2023 as the newest justice on the Tennessee Supreme Court. Justice Tarwater was nominated by Governor Bill Lee. 
Justice Tarwater was born and raised in Knoxville.  He earned a B.A. in political science from the University of Tennessee, Knoxville. He was named a Torchbearer, the University's highest honor, recognizing excellence in academics, leadership and service. He earned his law degree from his alma mater.
After working as a judicial law clerk for Judge Houston M. Goddard of the Tennessee Court of Appeals, Eastern Section in Knoxville, Justice Tarwater joined the law firm Egerton, McAfee, Armistead and Davis and four short years later was named a partner.  Three years later, his name was on the door at Paine Tarwater Bickers LLP.  He was invested in the Knoxville legal community, serving in almost every leadership position possible at the Knoxville Bar Association.
Justice Tarwater developed a national reputation in handling complex litigation cases. He has managed hundreds of complex cases at the trial and appellate levels in both federal and state courts and has developed a particular talent for legal discovery, expert testimony, and jury trials. As a result, he has handled cases in all three Grand Divisions of Tennessee and more than 20 states.
In 2006, Justice Tarwater was inducted into the American College of Trial Lawyers, which is comprised of the best trial lawyers in the United States and Canada. He has repeatedly been recognized as one of the Best Lawyers in America, which is compiled through a peer review survey of thousands of lawyers.
From 2014 to 2019, Justice Tarwater served as general counsel to former Governor Bill Haslam. The job of general counsel to the governor is broad and all encompassing. From reviewing every legal document the governor signs to analyzing proposed legislation, the position handles a multitude of legal, political and governmental issues. Justice Tarwater proposed reform measures in criminal justice, juvenile justice, law enforcement, and drug treatment as well as advised the Governor on criminal law issues involving defendants, such as extraditions, sentencing, and clemency requests, including those in capital cases.
Recognizing the impact even modest legal guidance can have on an individual person, Justice Tarwater has consistently accepted cases pro bono from Legal Aid of East Tennessee as well as accepted other cases at reduced fees.
Justice Tarwater served on the board of directors of LAET, the Volunteer Legal Assistance Program and the Pro Bono Project.
Year Elected/Appointed
2023
Previous Employment
General Counsel to Governor Bill Haslam from 2014 to 2019
Partner, Paine Tarwater Bickers LLP
Partner, Egerton, McAfee, Armistead and Davis 
Law Clerk for Judge Houston M. Goddard of the Tennessee Court of Appeals
Education
J.D., University of Tennessee, Knoxville
B.A., University of Tennessee, Knoxville
Honors
University of Tennessee, Torchbearer
Membership(s)
Knoxville Bar Association
American College of Trial Lawyers
Leadership Knoxville
Leadership Tennessee
American Bar Association
Harry Phillips American Inn of Court
International Association of Defense Counsel
Community Involvement
Legal Aid of East Tennessee, Board of Directors
East Tennessee Foundation
All Souls Church Foundation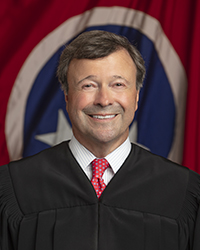 Address
505 Main Street, Suite 236
Knoxville, TN 37902
United States