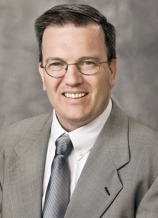 James M. Hivner became Clerk of the Appellate Courts June 3, 2014.
In his role as Clerk, Hivner oversees a staff of 29 at offices in Jackson, Nashville, and Knoxville. He serves the Supreme Court as well as the Court of Appeals and Court of Criminal Appeals.
Hivner came to the Appellate Court Clerk's role from Shelby County, where he was Chief Administrative Officer of the Shelby County Chancery Court. Prior to his role in Memphis, Hivner had a solo practice in Alabama before moving back to Tennessee, where he had an extended career with several law firms in Memphis. He also previously worked at NASA and served as an adjunct professor of business law at the University of North Alabama and Faulkner University.
Hivner earned a bachelor's degree in business administration from the University of Tennessee and received his J.D and LL.M. in taxation from the University of Alabama School of Law. He is married and has two children.