Criminal Justice Handbook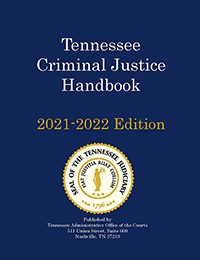 2021-2022 Tennessee Crimnal Justice Handbook
The 2021-22 book is available digitally only
*2022 -2023 availabe in the Fall*
Click here to order online.
Click here to order. Please download the form to enable the fillable feature.
If you have any questions please feel free to call 615-741-2687.
Please note, because of worldwide supply chain issues affecting the printing industry and shipping delays worldwide, the costs of producing and shipping the Criminal Justice Handbook increased this year. As a result, we have reduced the cost of the PDF version. In addition, books are taking a longer amount of time to be delivered. The AOC is promptly processing your order and the orders are sent to and packaged by our printer quickly. However, orders may be sitting in transit longer than usual.