Court of Criminal Appeals Judge
John Campbell was appointed by Governor Bill Haslam to be Criminal Court Judge of Division VI on November 1, 2012 to replace Judge John Fowlkes after his appointment to the federal bench. Judge Campbell was elected in 2014 for a full term as Judge for Criminal Court Division VI.

Judge Campbell received his Bachelor of Arts Degree in History from Memphis State University in 1980. He received a Doctor of Jurisprudence Degree from Memphis State University in 1983.

Judge Campbell began his legal career as an Assistant Public Defender in 1984 and was assigned as a trial attorney in the criminal courts of Shelby County. In 1985 Judge Campbell was appointed an Assistant District Attorney General for the 30th Judicial District of Tennessee in Memphis and served in that capacity until his appointment to the bench in 2012. While an Assistant District Attorney, Judge Campbell served in a variety of roles including service as Deputy District Attorney under District Attorney Amy P. Weirich.

In addition to his service in the courts, Judge Campbell has taught around the country on trial advocacy and ethics. Judge Campbell served as a technical advisor to the National Civil Rights Museum regarding the Martin Luther King assassination and James Earl Ray.  Currently Judge Campbell is Chairman of the Education Committee for the Tennessee Judicial Conference.
Year Elected/Appointed
2012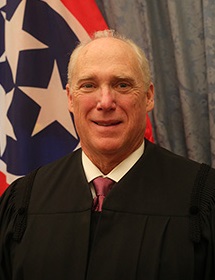 Contact Info
901-537-2980
Address
5050 Poplar Avenue, Suite 1400
Memphis, TN , TN 38157
United States