Criminal Justice Handbook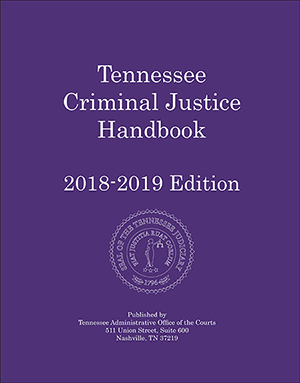 THE 2018-2019 EDITION OF THE TENNESSEE CRIMINAL JUSTICE HANDBOOK IS NOW AVAILABLE.
UPDATE: VERY LIMITED INVENTORY OF BOOKS AVAILABLE FOR PURCHASE AS OF MAY 3.
To place an order, please use the link below. The form can be completed on-line, printed and mailed to the Administrative Office of the Courts along with your payment (CHECK OR MONEY ORDER ONLY), made payable to the Administrative Office of the Courts.
You may now order and pay for the handbooks online. The AOC now has that available here.
Submit your order form and payment to:
Administrative Office of the Courts
ATTN: TN Criminal Justice Handbook
Nashville City Center, Suite 600
511 Union Street
Nashville, TN 37219
2018-2019 TENNESSEE CRIMINAL JUSTICE HANDBOOK ORDER FORM
Survey
We are looking for your thoughts and suggestions concerning the Criminal Justice Handbook. Take a seven question survey.